Committee Mission
The Biosciences Initiative Coordinating Committee's (BICC) mission is to strengthen research and education in the biosciences across the university through strategic leadership, coordination and alignment across the campus. Sponsored by the president and provost, the committee makes recommendations to the president and the provost for strategic alignment of practices, policies and investments in the biosciences.
Primary Committee Objectives
Improve quality and strategic coordination in faculty hiring
Identify emerging areas of strength, and other opportunities, where campus investment can help catalyze research impact
Rationalize investment in core facilities and other forms of research support across full breadth of campus
Enhance visibility of the biosciences for both internal and external audiences
Create more opportunities for community, collaboration and coordination among those doing biosciences research and education across the campus
Improve the quality of graduate and postdoctoral training programs
Learn more in the Biosciences Coordinating Committee Charge.
Leadership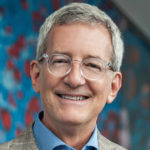 Roger Cone
Chair; Vice Provost and Director of the Biosciences Initiative
Asa Gray Collegiate Professor of the Life Sciences; Mary Sue Coleman Director of the Life Sciences Institute; Research Professor, Life Sciences Institute
Professor of Molecular and Integrative Physiology, Medical School
Roger Cone is a distinguished obesity researcher and academic leader in the field of biosciences. He joined the University of Michigan (U-M) in 2016 as the Vice Provost and Director of the Biosciences Initiative. Cone's research focuses on understanding the central control of energy homeostasis and the neural circuits involved in regulating energy storage. His contributions to the field include identifying key receptors and neural pathways in the brain related to obesity, disease cachexia, and anorexia nervosa. With a strong background in molecular physiology and biophysics, Cone has published numerous scholarly papers and holds several U.S. patents. He is internationally recognized for his work and has received prestigious awards, including the Ernst Oppenheimer Award and the Berthold Memorial Award.
In addition to his research, Cone is actively involved in academic leadership at U-M. He serves as the Asa Gray Collegiate Professor of the Life Sciences, director of the Life Sciences Institute, and professor of molecular and integrative physiology at the U-M Medical School. Cone has served on various scientific boards and editorial boards of prominent journals in the field. His expertise and dedication to advancing biosciences have earned him election to the National Academy of Sciences and fellowships in the American Association for the Advancement of Science. With his comprehensive knowledge and extensive contributions, Cone plays a vital role in driving the Biosciences Initiative and fostering innovative research at U-M.
Members