"The opportunities for discovery in the life sciences right now are greater than ever. The Biosciences Initiative means that the University of Michigan can make sure that we develop the cutting-edge technology for all of our faculty, and recruit leaders and the best new young faculty in these emerging areas, as well as explore new educational paths to train the next generation of life scientists so that they can excel in this rapidly evolving field. I think Michigan is in a unique place and has enormous opportunity to advance quickly in the life sciences."

-Roger Cone, Vice Provost, Director of the Biosciences Initiative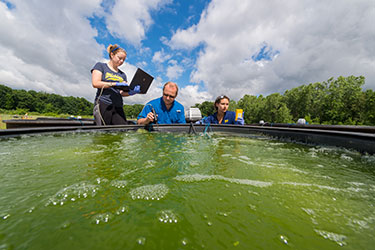 The biological sciences provide a spectacularly fertile landscape for discovery. One of the University of Michigan's great advantages in advancing this field is its world-class schools of medicine, dentistry, kinesiology, pharmacy, engineering, environment and sustainability, public health and nursing, in addition to an outstanding academic medical center, the Life Sciences Institute and large biological sciences departments in the College of Literature, Science, and the Arts.
In 2015, the President's Advisory Panel on the Biosciences recommended that U-M should enhance its efforts to become a magnet for the best biosciences faculty, postdoctoral researchers, and graduate and undergraduate students in the world. Achieving that goal requires building on our inherent strengths across disciplines to identify activities to advance research, education, core resources, and administration in the biosciences.
To help make that happen, a new multidisciplinary faculty committee, commissioned by U-M President Mark Schlissel and chaired by Vice Provost and Life Sciences Institute Director Roger Cone, began meeting in summer 2017.
Our Mission:
To strengthen research and education in the biosciences across the university through strategic leadership, coordination and alignment across the campus.
Key Elements:
A one-time investment of $150 million.
Hiring of 30 new faculty members over the next five years.
The Biosciences Initiative Coordinating Committee will help identify research areas in the biosciences that are promising for additional investment including new faculty hires and equipment or other tools and capabilities that enable progress and catalyze collaboration.
The committee will also try to identify opportunities that other universities may have overlooked, or ways to take advantage of U-M's breadth that would not be obvious except to faculty researchers who are in the trenches doing this type of work every day.
Biosciences Initiative Presentation to APG
Background information on the Biosciences Initiative: